Principles of the Paleo Diet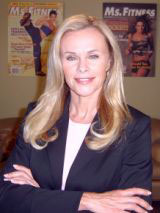 An introduction to the Paleo Diet by Greta Blackburn.
Included at bottom – Two Days of Paleo Meals Menus, including Breakfast, Lunch, Dinner, Snack and even Cocktail Recipes!
Welcome to the World of Longevity Via Good Dietary Choices
Few areas are as rife with dissension and controversy as that of nutrition. Perhaps you've seen some of these contradictions…
One day we're told that drinking coffee is good for us and another day we are told that it is not.
Alcohol helps us live longer (in particular, moderate amounts of red wine) in one study and in the next we are told to be teetotalers.
"Vegetarians live longer" one pundit proclaims while another, equally accomplished scientist or nutritionist extols the virtues of eating flesh.
Finding your way through the maze can be difficult. Who are we to believe? What are we to ingest for maximum health benefit?
One way to peel the layers off of this onion is to decide what your GOAL is. Do you want to simply lose weight and fast? Then hey, knock yourself out starving or drinking only liquids and you will probably lose weight temporarily- but at what cost long term?
Do you want to make a philosophical statement by not eating the flesh of living creatures? That's a choice many people make but it may not allow you to stay around past 100, current theories to the contrary. There is no scientific basis to the popular claim that vegetarians live longer. They merely die from different causes of death than those who eat meat.
Are you trying to cut out sugars and starches from your diet? That's great, but are you getting enough quality protein as well? Or maybe you just want what will give you the most lean muscle and the least fat. Hey, bodybuilders in the 60's went on the "Any Meat, Any Water" diet and got ripped to shreds but their health went to hell in a handbasket without any phytonutrients, fiber or anti-oxidants to nourish their bodies.
Diet and Longevity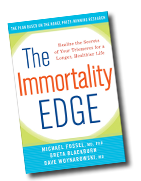 One GOAL that people are taking a hard look at is eating for LONGEVITY. "What diet will enable me to live the longest and be the most healthy over time?" is the question these people ask themselves and the experts.
As Co-Author of "The Immortality Edge", a book based on Telomere Biology, I wanted to give the book the latest, most scientific nutrition plan out there. We were actually going to print on the book and I yelled, literally, "Stop the press!" because I had gained access to an exciting piece of science that was about to be disseminated. Needless to say I was not very popular with my editors and others but I knew that if the book was to be truly cutting-edge, we needed to include this important element.
Read more about "The Immortality Edge", or see prices and reviews on Amazon.
The problem was that the information I became privy to was embargoed and would not be available to the public until AFTER the book was published. I reached out to the scientist who had done the groundbreaking study and was able to glean enough about his premise to know that what he had to say was truly groundbreaking and way ahead of the curve.
Michael Rose, PhD is a pre-eminent evolutionary biologist and has studied the Paleolithic Diet extensively. He has drilled down to an extraordinary conclusion that it is ONLY by eating Paleo can we live to 100, 150 and WAY beyond.
After many hours and much solitary burning of midnight oil, The Immortality Edge went to print with Paleo options in the nutrition section.
This is where you are probably asking:
What is the Paleo diet, anyway? What does eating like a hunter/gatherer mean?

The book includes a full nutrition section so that planning the meals is easy. This book contains fantastic recipes by Sarah Fragoso whose "Everyday Paleo" is the best cookbook I have ever seen, and it is all 100% Paleo. so planning and executing your meals should be easy.
The Question Remains: "WHY Am I Embarking on this Paleo Plan?"
In "The Immortality Edge we discuss the fact that humans are still genetically adapted to the hunter-gatherer diet. We also point to the positive effects of the Paleo diet on insulin signaling, oxidative stress and endogenous acid load.
But there are experts in this field who have been beating the drums about this way of eating for years now. For the purposes of this book, I reached out to Robb Wolf, one of the top authorities in this field to help answer that question. You will find some basic concepts in his section of "Principles of Paleo". You can take a deeper dive into the subject by reading his book, "The Paleo Solution" which I highly recommend.
Finally, I reached out to David Kekich, Founder of The Maximum Life Foundation (www.maxlife.org) for his backgrounder information on the Paleo diet. David has devoted his life to exploring any and all things that have to do with extending human healthspan and he is an exceptional source of science-backed information on many things.
I've included a few meal plans below to give you an example of what a day of eating Paleo looks like.
I hope that you will find this new way of eating as energizing, slimming, and healthy as I have. It can truly help you pave the way to making 100 the new 50!
Oh! I almost forgot: The Paleo lifestyle does NOT preclude the occasional adult beverage. Red wine is legal. Good quality tequila is legal. For The Immortality Edge we created a cocktail called…The Edge. I have included that recipe below as well.
Two Daily Paleo Diet Meal Plans
Option One
Breakfast: Grain-free cereal (Lydia's Organics made a great one) with almond milk or two eggs prepared any way you prefer. Black coffee or tea.
Lunch: Tossed salad with peppers, onions, tomatoes, any vegetables of your choice and topped with strips of free-range grilled chicken. Olive oil and vinegar dressing. Grain-free crackers. (Lydia's Organics, again). Unsweetened iced tea.
Dinner: Grass-fed beef with steamed broccoli on the side. Baked half yam. Fruit compote for dessert. One glass of red wine or Edge cocktail (see below), if desired.
Option Two
Breakfast: Omelet cooked in a small amount of garlic and olive oil. (Add vegetables, salsa, leftover chicken or beef if desired.) Black coffee or tea. Sweeten with stevia or honey if needed.
Lunch: Egg Salad made with mustard. Serve on a bed of mesclun lettuce. Add grape tomatoes. Olive oil and vinegar dressing. Grain free bread. Iced tea sweetened with stevia or honey.

Dinner: Grilled fish and steamed veggies of your choice. Beverage options as noted previously.
Snacks: During the day, you may have sliced apples, nuts (especially Brazil nuts), sliced melon, mixed berries and an occasional piece of dark chocolate.
The Edge Cocktail (I suggest using Patron Tequila, which is made with only the highest quality Weber Blue Agave from Jalisco, Mexico and is grown in rich volcanic soil. Plus, it tastes great.)
2 ounces Patron tequila of choice (or other brand)
2 ounces cranberry juice (sweetened), pomegranate juice (sweetened) or Acai
Splash of 7-Up to taste (OK, this is a bit of a cheat…)
5-10 drops of astragalus extract (to taste)
One fresh or frozen blackberry as garnish (several blueberries will work also)
Mix and serve over ice to taste
The Edge Ultra
Substitute champagne for splash of 7-up
Enjoy!





by